Overview
Asparagus, cucumbers, garlic and squash are still very active. We are seeing shortages and high prices on small lemons and broccoli. Blueberries and Raspberries are steady!!
Market Alert
Asparagus, Broccoli (Extreme), Cucumbers (Euro), Onions, Broccoli (Extreme), and Squash (Yellow )
Weather
Following more than a week of clear skies, moderate rainfall is once again in the late-week and weekend forecast for Central California, extending as far south as Los Angeles. Temperatures will decline to seasonal averages, with highs in the 60's and lows in the 40's & 50's. Generally, clear skies will continue in Western Arizona where a warming trend will push temperatures to well above average the highs will reach the mid 80's in Yuma by next Thursday. The same will occur in Central Mexico (Sinaloa), with low-to-mid 90's beginning Sunday and continuing through Tuesday. Mild weather and generally clear skies will continue into early next week for Central & South Florida districts. The highs will be in the 70's & 80's and lows in the 50's.
Transportation
Trucks are in adequate supply in all districts including the Northwest, Southwest, Texas and Florida.
Fruit and Vegetables
Avocados: We continue to see the market more active, particularly on large fruit as the size mix shifts to heavier fruit. Production on #2 volume will also be increasing throughout the remainder of January. With the shift away from small fruit, 60's and larger are expected to call for a higher price through the Super Bowl Weekend. Quality remains good with good oil content.
Bananas: Demand and quality are good and supply is steady.
Blueberries: Availability is steady. Late-season harvesting is winding down in Chile and Peru, with the final vessel arrivals scheduled for late February. The transition to Central Mexico has been smooth. Mexico will reach peak production next week.
Blackberries: Tight availability continues due to cool weather and fallout from the Colima Volcano, where many of the blackberry fields in Central Mexico are located. Production volume is expected to increase by mid-February.
Raspberries: Raspberries are currently being supplied from Central Mexico, Baja California and Oxnard. Production volume in Mexico is expected to increase by mid-February.
Strawberries: Demand is strong with the approach of Valentine's Day. Production in Southern California and Central Florida continues to be significantly below average due to rains in the second half of January. Central Mexico will be in peak production by next week, however shortages in California and Florida will continue to support current prices. Limited availability will continue on stem strawberries.
Grapes: Supplies are improving and demand is lighter than expected. Sugarones and Flame pricing is down this week.
Mangoes: Supply and quality are good and prices are rising slightly.
California-Arizona Citrus
California is still experiencing harvesting delays due to weather conditions. Another couple inches of rain are expected by the weekend. Smaller, choice grade fruit has been very hard to come by, with most supplies being larger, fancy grades of fruit.
Navels: Supplies are expected to increase over the next couple of days, depending on weather. Quality, flavor and internal color are good. Larger, fancy grade due to recent weather
Lemons: District 1 is packing, District 3 is finishing up. Volume is expected to be tight. Very tight availability on 165's and 200's
Limes: Limes are available in good supplies, packing in Texas and California. Great quality and color
Mandarins: Mandarins are available, sizes peaking on 24/21/28/18. Great eating and color. Pummelos are also available, sizes peaking 12/14/10.
Mostly fancy grade.
Grapefruit: Texas grapefruit is packing, good supplies of 40's and smaller. Florida Red and Dark Red grapefruit is also packing,
sizes
peaking 27/32 with limited smaller sizes. Grapefruit quality has been very good this year
Specialties: Minneola Tangelos are available, great quality and color. Blood Oranges are in good supply, great color. Cara Caras are available, excellent color and quality. Mandarins are available. Great eating and color.
California Lettuce
Green and Red Leaf: Supplies on green leaf are good while quality is on the average side. We are seeing a lot of dirt due to the heavy winds, seeders and tip burn. We are seeing very short supply on red leaf, however quality is good. Prices are high on both red and green leaf.
Iceberg Lettuce: Supplies of iceberg lettuce are below average, quality is good to average, and we are seeing some mildew due to the rain.
Romaine: Currently, supplies are lighter than expected. We anticipate supplies to get tighter and more expensive. Quality is hit or miss with epidermal peeling. *Pricing is up!
Romaine Hearts: Supplies are plentiful. We are seeing twisting and quality is average, and peeling.
Eastern and Western Vegetables
Green Bell Peppers: Green bell peppers are in plentiful supply in Florida and Nogales. The product from Central Mexico is excellent. The
high winds and rain that occurred during late January in South Florida will continue to have an effect on quality and potentially yield through March.
Cucumbers: We have steady availability on cucumbers from Central America; prices have firmed slightly. Quality continues to be variable. Cucumbers from Mexico are in good supply and prices have eased; quality is good.
English Cucumber: Winter production volume has declined for hothouse growers in Eastern Canada, causing increased demand for English cucumbers from Mexico. Prices remain firm.
Green Beans: Quality is variable on beans in Florida and Mexico. Prices are higher for premium quality product.
Zucchini & Yellow Squash: High winds in Florida have caused additional issues with scarring on zucchini and yellow squash, resulting in a wide range in quality. Availability has improved somewhat in the east and west. Prices have begun to ease slightly for yellow straight neck and zucchini. New fields are being harvested in Mexico with excellent quality.
Herbs
Our fresh culinary herbs continue to be in very steady supply with good quality. We are calling for some rain at the end of this week, but nothing like the 5 plus inches we saw with the last storm.
Basil: Supplies are very steady and quality has been good.
Dill: The warm sun over the past 7 days has taken care of the previous moisture issues.
Chervil: There continues to be limited supplies, but quality is good. Please watch your inventory because shelf life has been reduced due to the cold and rain.
Italian Parsley and Mint: Quality is very good after the storms.
Melons
Cantaloupe: Overall cantaloupe volume has started to decrease has allowed shippers the opportunity to slightly strengthen the market especially on larger fruit. Strong retail promotions continue to drive the market. Sizing has been primarily 9's with a good amount of 12's also hitting the market. Smaller sizing has been caused by cooler temperatures in the growing region.
Honeydew: Sizing has been peaking mostly with 6's & 8's from Honduras. This sizing trend is expected to continue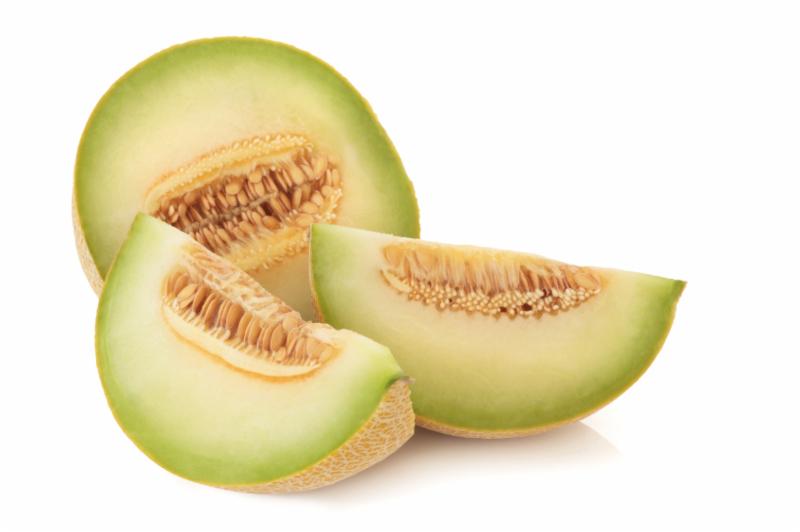 over the next 7-10 days. Brix levels have been ranging from 10-14%.
Watermelons: The seedless watermelon supply has shortened up which has caused the market to push higher.
Mixed Vegetables
Artichokes: We expect good supplies of artichokes this week, as supplies industry-wide have increased. Better volume is expected in the upcoming weeks. Prices are steady but trending lower on some sizes. 36 counts are not readily available
Arugula: Supplies of both baby and wild arugula are light due to mildew.
Asparagus: Prices are still up as the end of the season approaches. This transition phase is lasting longer than anticipated due to a late start in Mexico. Mexico is on schedule to start now, with larger volumes hitting the market by early/mid-February. Prices are high and we are seeing current shortage in product. This will improve as production increases each week.
Bok Choy: Quality is good and we are seeing some higher quotes on WGA cartons.
Broccoli: EXTREME MARKET- Due to warmer than usual weather patterns plus the amount of rain that has fallen, we are seeing a gap in harvest schedules and supply. We are seeing higher prices and with a shortage of supply.
Brussels Sprouts: The market and supplies are good this week. Quality is good.
Carrots: Georgia carrots have arrived. Rain in Kern County, CA, has made the carrot market a bit more active in that region of CA, so please order ahead to keep a good supply. We are seeing a shortage of supply continue due to the rain.
Ca
uliflower: Quality is average. We are seeing yellowing. Supplies are down.
Celery: The market is steady and quality is good.
Corn: Florida sweet corn has seen a spike in pricing this week. There has been less availability as in previous weeks due to planting gaps and the cooler weather hindering maturity.
Cilantro: Supplies are good. Quality is variable as there is still yellowing with some decay.
Fennel: Supplies for the week will be good.
Garlic: We are still in the same situation with garlic, nothing much better and not worse. The supply of domestic garlic remains tight. Pricing on domestic peeled 4×5's is still high. In the past week or two, we have observed a slight relief in demand. This is fairly normal after the New Year. Concerning Chinese supply, at the moment, there is definitely more supply available, especially on the East Coast.
 
This time of year, it is normal for Chinese exporters to export all pounds that did not make it into cold storage for the year. A percentage of the loads being received in the US the past month are due to this. The garlic was never put into cold storage, and if it was not sold/shipped in late November/December, the product will/would expire altogether. A percentage of Chinese peeled lbs. received in the last month are challenged (especially on the East Coast). Issues include excess translucency, pink and yellow aging/stress marks, and mold, etc. With the additional supply overlapped with some quality issues, the price of Chinese garlic has come down some in the past month.
 
As we move forward in the next 6 months, we expect the Chinese supply to decrease, and the Chinese market again to return to abnormal highs. Some Chinese shippers have recently received higher duty rates from US Customs. There are indications that these companies will not be exporting garlic to the US for the foreseeable future.
Ginger: Chinese ginger is in good supply. It is being offered at a substantial discount compared to ginger from Brazil.
Green Cabbage: Green cabbage is in good supply and should be steady this week. Quality is good.
Green Onions: The green onion supply for the industry is getting better. We are seeing prices come down.
Kale (Green): Demand is steady and quality is average. We are seeing some mildew.
Mache: Availability is adequate.
Napa: Supplies are good and quality is excellent.
Parsley (Curly, Italian): Prices are normal and quality is excellent.
Radishes: Quality is good and supply is plentiful.
Red Cabbage: Quality and sizing have been great, with good color. Overall, the market is strong.
Snow and Sugar Snap Peas: Snow and sugar snap peas are in high demand with good quality.
Spinach (Bunched): Supply is average; quality is only fair. We are still seeing some mildew in this product.
Spinach (Baby): Baby a
nd clipped spinach supplies are light. Quality is fair to good, with good prices. There are some reports of mildew.
Spring Mix: There is plenty of product, with quality being average, but it has improved.
Onions
The extreme situation in the Treasure Valley appears to be finished. Nearly all of the affected growers have resumed packing and shipping on all three colors. Barring any further weather interruptions, we do not expect to see prices increase in the near future. The size profile on the Mexican product is heavier, Mediums and Jumbos. Large size onions (Colossal and Super Colossal) will need to continue to be sourced in the Northwest. Quality remains strong in the Northwest.
Potatoes

Demand in Idaho is moderate on consumers, 50 Ct./70 Ct. are very good. Demand will probably stay flat for the foreseeable future. Prices are steady with no change expected at this time. We probably will not see any significant change in this market until Memorial Day. Some shippers in the state have experienced issues with getting the volume of cars that they need to ship. We can expect this to be a small issue for the next few days. Trucks appear to be readily available.
Tomatoes
East
Rounds: Supplies in the east remain good despite the recent weather events. FOB prices are mostly unchanged this week with excellent quality being reported.
Roma: Harvest forecasts are mostly unchanged and quality is good. Pricing will be mostly unchanged this week.
Grapes: Supplies are good and quality is excellent. FOB prices remain unchanged this week. Quality remains very nice.
Cherries: Supplies are steady and quality remains good. FOB prices are remaining mostly unchanged.
West/Mexico
Rounds: Vine-ripe production is good through Nogales and McAllen, still light crossings through Otay. FOB prices are mostly unchanged this week. Overall quality is very nice on all sizes throughout Nogales, McAllen and Otay.
Romas: Supplies are good through Nogales and McAllen with great quality expected over the next 7 to 14 days.
Grapes: Good supplies are crossing through Nogales and quality remains excellent.
Cherries: Supplies are good, but the quality is off a bit this week. We expect to see a tick up in the prices as demand is driving more pull out of the East.
Apples, Pears and Tree Fruit
Apples: Demand and movement is steady with supplies readily available in most sizes and grades with the exception of golds and grannys. Supply remains tight on 100's and smaller on all grades except premium. 125's and smaller sizes in all varieties will continue to be tight all season.
Pears: Demand and movement are steady. Prices remain high on D'Anjous, 100's and smaller whereas Bartletts have a much better value.